Zwift Computer Buyer's Guide 2019 - 2020
Zwift runs on a wide range of computer hardware from smart phones to gaming PCs. In 2019, Android support officially launched and tablet graphics now rival mid-range Intel Core i7 laptops. At the high end, ultra 4K is now possible on a budget gaming PC, but would you really want to buy a bulky tower PC in 2020? And do you even need a computer to run Zwift when Android smart phones can Chromecast to a TV? Alternatively, Apple TV 4K is an affordable turn-key solution with good performance, but awkward remote and limited to two bluetooth devices. This guide weighs up the pros and cons of each option and aims to answer the most common questions. Data is provided by zwiftalizer.com.
Apple TV 4k
iPad Air
(3rd Gen)
Samsung Galaxy S4 Tab
PC Business
Laptop
PC Gaming
Desktop
PC Gaming
Laptop
Mac Book
Air (13")
Mac Book Pro
(15" Pro Vega 20)

Pros
Inexpensive
Graphics smoother than most $700 laptops

Graphics smoother than most $700 laptops
Ease of use.
Faster than previous gen iPad Pro
Graphics smoother than most $700 laptops.
Chromecast
General-purpose computer
Highest quality graphics
General-purpose computer
Highest quality graphics
General-purpose computer
BTLE or ANT+
General-purpose computer
BTLE or ANT+
AMD Discrete GPU
General-purpose computer
Cons
Not 4K 3D graphics.
Graphics lack detail
Remote sucks
No ANT+
Apple ID needed
Needs Lightning to HDMI to use with TV
No ANT+
No ANT+
No discrete GPU.
Graphics quality equivalent to $180 Apple TV 4K.
Beta BTLE in Win 10.
Not portable.
Hard to recommend a desktop PC in 2020.
Beta BTLE in Win 10.
More expensive than desktop equivalent performance.
Beta BTLE in Win 10.
Expensive for graphics equivalent to
Apple TV 4K.
Expensive for graphics perfomance equivalent to $1,200 PC gaming laptop
CPU
Apple A10X
Apple A12 Bionic
Qualcomm ARM Octacore
Intel Core i7-8650U
Intel Core i3-8100 or
AMD Ryzen 5 2600
Intel Core i5-9300H or
Intel Core i5-8300H
1.6GHz dual-core Intel Core i5, Turbo Boost up to 3.6GHz
2.4GHz 8-core Intel Core i9, Turbo Boost up to 5.0GHz
GPU
Apple A10X
Apple A12 Bionic
Adreno 540
on-board Intel
UHD Graphics 620
Nvidia GTX 1660 Ti
Nvidia GTX 1660 Ti
onboard Intel
Intel UHD Graphics 617
Radeon Pro Vega 20
Cost
$180
$500
$550
$500 - $700
$800 - $1,600
$1,200 - $2,400
$1,500
$4,000
Search
Shadows - Structures and Trees
Yes
Yes
No
Yes
Yes
Yes
Yes
Yes
Shadows - Avatars and Bikes
No
No
No
No
Yes
Yes
No
Yes
Sun rays
No
No
No
No
Yes
Yes
No
Yes
Reflections
No
No
No
No
Yes
Yes
No
Yes
Headlights
No
No
No
No
Yes
Yes
No
Yes
Graphics Profile
Basic
Basic
Basic
Basic
Ultra
Ultra
Basic
High
720 Resolution
No
No
Yes
Yes
Yes
Yes
Yes
Yes
1080 Resolution
Yes
Yes
No
Yes
Yes
Yes
Yes
Yes
1440 Resolution
No
No
No
No
Yes
Yes
No
Yes
2160 Resolution
No
No
No
No
Yes
Yes
No
No
Portable
Yes
Yes
Yes
Yes
No
Yes
Yes
Yes
Low Maintenance
Yes
Yes
Yes
No
No
No
Yes
Yes
BTLE
Yes (2 devices)
Yes
Yes
Beta
Beta
Beta
Yes
Yes
ANT+
No
No
No
Yes (USB stick)
Yes (USB stick)
Yes (USB stick)
Yes (USB stick)
Yes (USB stick)
Multitasking
Limited
Limited
Limited
Yes
Yes
Yes
Yes
Yes
Quick tips
Apple TV 4K is the best option for features vs cost but it is not 4K 3D.
Nvidia is faster at OpenGL - thousands of Zwiftalizer logs say so.
Don't buy a laptop if all you are going to do is connect it to a TV. Buy an Apple TV 4K.
Only buy a laptop that has an Nvidia GTX GPU.
Microsoft's BTLE stack in Windows 10 is beta.
A discrete GPU is required to get the full graphics effects and 1440 and 4K resolution.
More FPS won't make you faster.
Convenience, cost, graphics, pick any two
If you want the highest quality graphics then expect to spend upward of $800 USD. Portables and set-top boxes are obviously more convenient and cheaper than desktop PCs but have basic graphics. The mid range is where the choice is essentially between a tablet and a cheap laptop. For games performance they're about the same. Battery life is better on tablets. If you need ANT+, then you'll need a laptop as there isn't a single Android tablet with ANT+ support in Zwift. Tablets are low maintenance with fast start up times. A laptop without a discrete GPU is the least desirable option. An iPad Air 3rd gen has a faster chip than the previous gen iPad Pro. MacBooks have basic gaming performance until you spend around $4,000 on the Pro Vega 20 upgrade.
Apple TV 4K - Convenient, very cost effective, but not full featured graphics.
iPad Air, Samsung Galaxy Tab S4 - Convenient, somewhat cost effective, but not full featured graphics.
PC Laptop - Convenient, not cost effective, but not full featured graphics
Gaming PC Tower - Features, cost effective, but not convenient.
Gaming PC Laptop - Features, convenient, not as cost effective - unless you find a deal.
MacBook Pro Vega 20 - Features, convenient, not at all cost effective and no deals exist.
Apple TV 4K, iPad Air
Apple's system on a chip is ridiculously fast. The A10X, A12 Bionic and A13 Bionic chips in Apple devices have GPUs that compete with Intel on-board graphics. The catch is that the resolution is not that high and they are capped at 30 FPS. Apple TV 4K (A10X) does not do 3D graphics in 4K. It is 1080 with basic level of detail (object shadows are supported as of October 2019, but not rider shadows). The overall experience is as good as Intel UHD 620 graphics in the laptop Core i7 for 1⁄4 the cost. That's amazing. You'll need a TV, obviously, (or a 22" Dell 1080p monitor from Craigslist for $25 😃) and if you're using an ANT+ power meter you'll need an ANT+ to BTLE bridge. Apple TV 4K is highly recommended. You will need to spend four times as much for the next step up in graphics.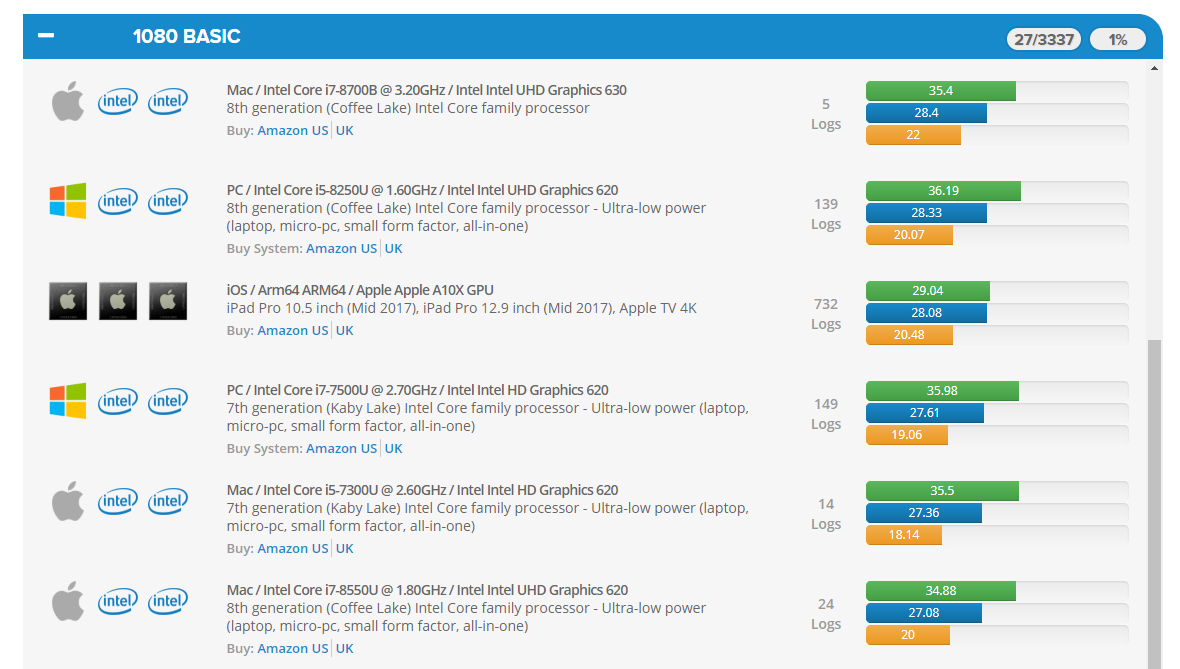 Android
Android is the most important development to come out of Zwift in 2019. Zwift for Android is out of beta. This is a big deal if the all-in-one smart bike with screen ever gets built. For now, the fact that the latest Samsung Galaxy phones and tablets have graphics capabilities equal to last year's iPad Pro means a whole new segment of device owners have an option to use Zwift without needing a Windows PC or an Apple product. There is no ANT+ support yet. While that is not a blocker for smart trainer users, it could be a deal breaker for older ANT+ only power meter users. The benchmarks show tablets with the Adreno GPU, such as the Samsung Galaxy S4, have a higher frame rate than the A10X in the iPad Pro. However, the resolution is reported as 720 not 1080.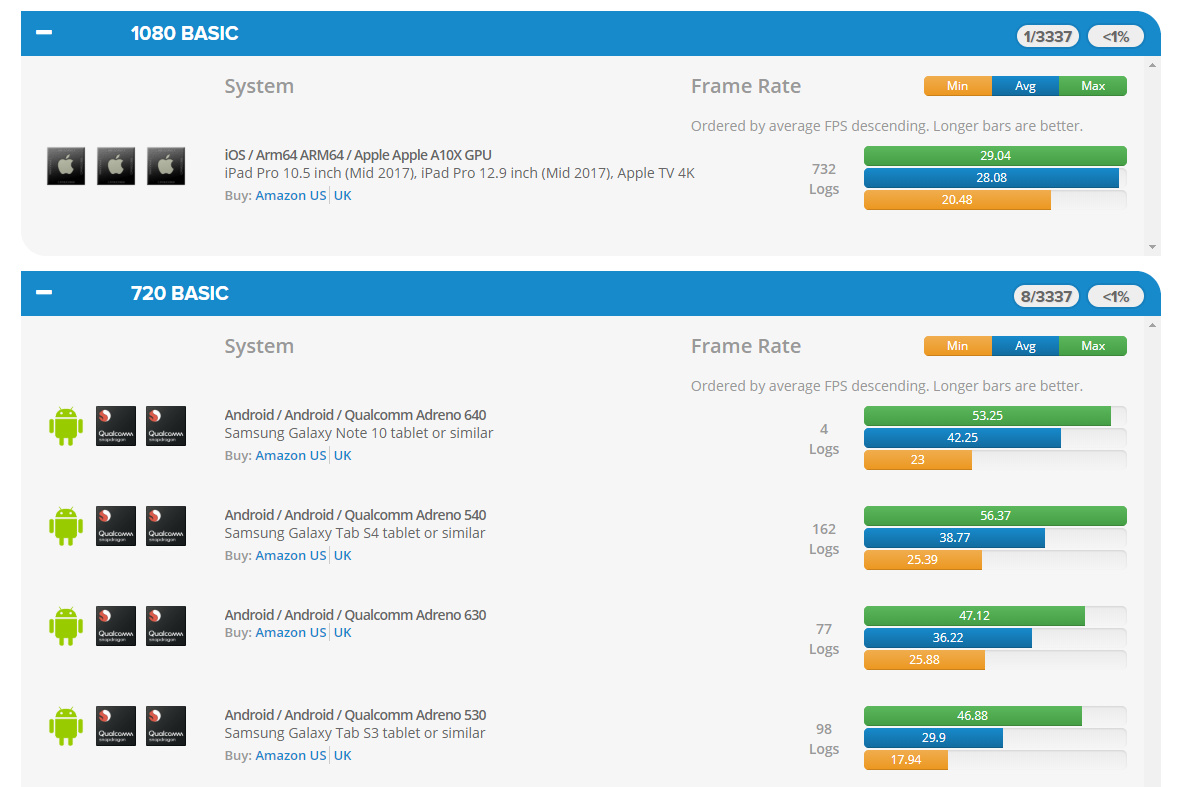 PC Laptop $500 - $700
There isn't anything under $500 that has better graphics than Apple TV 4K. Even the top end Intel UHD 620 graphics in the mobile Core 7i is only slightly better than the A10X in the Apple TV 4K. Pass on all laptops with Intel or AMD on-board graphics. Intel 8th generation Core i5 with Nvidia MX150 GPU is surprisingly good for around $650 and gets an average of 45 FPS with the medium profile, but I would really recommend stepping up to a full HD high profile gaming GPU, such as the GTX 1050 Ti, if you're in this far.


Gaming PC Tower - $800 - $1,600
What you need for Ultra. If you don't mind a box the size of small carry on luggage next to your bike or treadmill, a gaming PC is the most powerful option for the money. The catch is that the BTLE stack in Microsoft Windows 10 is a dumpster fire 🔥 (not Zwift's fault), so until things improve there, your best option is ANT+ FE-C with a USB2 dongle - a small cost compared to the other things you'll want in a gaming rig, but still a detail worth mentioning. It's also worth taking some time to discuss the major components in turn because it's important to get the right combination of CPU and GPU for OpenGL:
AMD or Nvidia GPU for Zwift?
Nvidia GPUs perform better than similar spec'd AMD GPUs for Zwift. Three years of Zwiftalizer Benchmarks confirm Nvidia is faster than AMD in every category. Zwift uses the OpenGL graphics application programming interface (API) and Nvidia has more efficient drivers than AMD for OpenGL on Windows (Apple's OpenGL drivers for AMD are better). Most benchmarks that compare Nvidia and AMD use games that use Microsoft's DirectX API. Don't compare DirectX benchmarks when choosing a GPU. Nvidia is the clear winner for Zwift, and it is also what the graphics programmers and artists use at Zwift.
Which NVidia GPU?
Nvidia GTX 1660 Ti is my top pick going into 2020. At under $300 USD it has almost the same performance as a GTX 1070 which costs about $80 more (roughly 7% more performance but at a %20 higher price). Zwiftalizer Benchmarks consistently show the GTX 1070 running Ultra 4K at 60 FPS. GTX 16xx is the same generation Turing architecture GPU as Nvidia's RTX 20xx series without the real time ray tracing, which Zwift doesn't do anyway.

If you're on a tight budget, or don't have a 4K display, the GTX 1050 Ti is fantastic at 1080p with the ultra profile bling. It draws power from the 75W PCIe slot alone, it can be installed in an office PC without needing a power supply upgrade. Another one to watch is the GTX 1650. This is the latest Turing architecture GPU that supersedes the 1050 Ti and fills the $150 GPU option when the 1050 Ti goes out of production. Don't get a 1650 if you already have a 1050. It is not an upgrade. But do get the 1650 if you are not sure whether to get the 1650 or 1050. 1650 is newer.
Finally, a used GTX 750 Ti 2GB deserves an honorable mention. These are dirt cheap now and still a big upgrade over Intel on-board graphics. You can pick one up on eBay for $50 and an an office surplus PC for $75 and have a 1080 High profile 45 FPS no problem.
Intel or AMD CPU?
Choose higher clock speed over more cores. Currently (late 2019), AMD Ryzen CPUs have higher clock speeds than similarly priced Intel CPUs and Intel had production problems in 2019 causing their supply to go down and costs up. For that reason, I am recommending AMD Ryzen this season. I also recommend 4 or 6 core CPUs with higher clock speed over 8 or 12 cores with lower clock speeds. 8th generation Core i3 8100 now has 4 physical cores, and you can't go wrong with any 8th or 9th gen Core i5 or Ryzen 5 2600. There are user reports of the newer Ryzen 5 3600 series causing Zwift to not recognize the Nvidia GeForce GPU properly, so maybe stick with Ryzen 5 2600 for now. You don't need more cores unless you plan on live streaming or some other heavy multi-tasking workload. The exception is Intel laptops with Intel UHD graphics on board. Core i7 and i9 laptop CPUs have higher spec'd onboard graphics than Core i5. Even so, Apple TV 4K is better value than an average Intel laptop.

Gaming PC Laptops under $800
This segment now has its own page - Gaming Laptops For Zwift Under $800 USD
Gaming PC Laptop - $800 - $1,200
8th generation Intel Core i7 with Nvidia GTX 1060. The power of desktop gaming graphics in a portable package, but not really. Laptop CPUs have a low thermal design power (TDP) of approximately 20-35 watts because they run on batteries. Desktop PC CPUs have much higher TDP because they have mains power and room for bigger cooling fans. Desktop graphics are more powerful for this reason. Intel uses the same product names - Core i5, Core i7, etc - in laptops but run them at ultra low power and are therefore not as capable as their desktop counterparts. Look for the U suffix in the CPU product code = ultra low power. For example, a Core i7-8550U (15W TDP) laptop CPU is roughly 1⁄2 the performance of a Core i7-8700K (95W TDP) desktop CPU. GPU manufacturers have started doing the same thing. A laptop GTX 1050 Ti may not perform as well as a desktop GTX 1050 Ti. It used to be more obvious to tell a mobile GPU by its m suffix - 950m, 960m, etc, but that is no longer the case. There are so many options this section needs its own page. Briefly, it comes down to all the same considerations as the gaming PC tower, plus screen size and battery life. My recommendation in this category - for smooth 1080 high profile gaming is an Intel Core i5 9300H and Nvidia GTX 1650 GPU, with 8GB RAM, and SSD. Always SSD. For 1440 and 4K ultra, look for Intel Core i7 8750H with Nvidia GTX 1060 at around $1,200 to $1,400.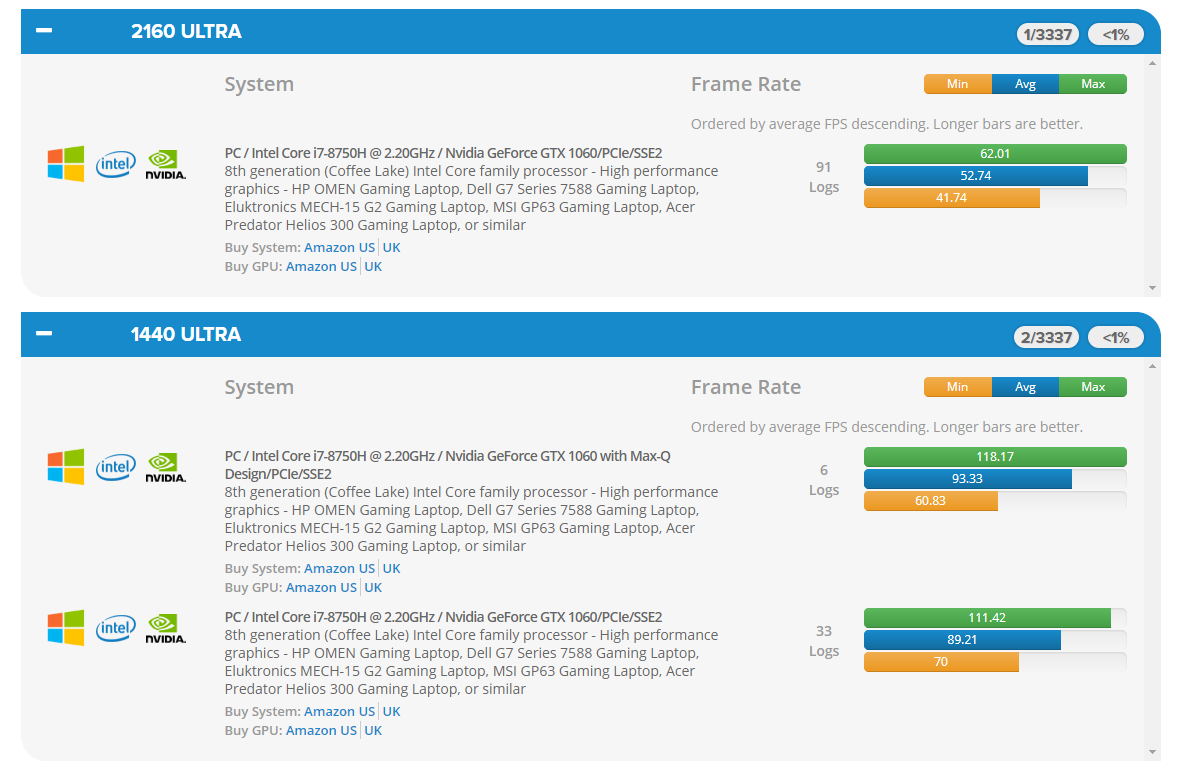 Intel Core i5 9300H Nvidia GTX 1650 gaming laptop

Intel Core i7 8750H Nvidia GTX 1060 gaming laptop

MacBook Air - $1,400
It's slim, comes in rose gold, has a lovely screen, and BTLE that works, which is good because it has no USB2 ports for an ANT+ dongle (you'll need adapters), but it's expensive and graphics are only marginally better than Apple TV 4K and equal to a PC laptop that costs 1⁄2 as much.

MacBook Pro with AMD Vega 20 - $4,000
Portability, a great screen, BTLE and ANT+ support (via USB-C to USB2 adapters), very smooth graphics, but the stinger - it's roughly $4,000 fully loaded. The graphics options provided by the AMD Vega 20 GPU get you the 1440 resolution option (need to confirm). Although the resolution is 1440, the profile is high, not ultra, but you probably wont notice the difference when you're sweating bullets explaining to the treasurer why you needed a four grand laptop to play a bike game.

eGPU break out box - Sonnet Vega 64
If you are set on a Mac (or PC) laptop, yet want the highest possible quality graphics at home, for around $800 you can get a USB-C break out box with a power supply and a PCIe slot that accommodates a full size GPU. If you go this route, you should get the high end AMD Vega 64 GPU despite what I said about OpenGL being worse on AMD. The Apple OpenGL drivers aren't as bad and you will benefit from AMD's OpenCL acceleration in Final Cut Pro X, Photos and many other Apple media apps. Apple uses AMD GPUs in high end iMac Pros and MacBook Pros and Apple applications are optimized for AMD GPUs. Mac computers that use OpenCL and OpenGL graphics


What happened to Alienware Alpha?
Sadly for Zwifters the Alienware Alpha product line is officially dead. They couldn't compete with consoles on cost and didn't offer high enough specs to run newer games very well. There is no longer a big enough market for a small form factor PC with a built in gaming GPU. Intel NuC type PCs fill the spot for personal computing, and consoles fill the spot for gaming. A stock Intel NUC is a bad choice compared to Apple TV 4K for Zwift because they typically cost two to three times as much for equal performance. However, if you really need a small form factor, fully capable PC with GPU, for about the same price as a gaming laptop, you might want to checkout the the Intel NUC with and AMD Vega M GH on-board.
Intel NUC with AMD Radeon $1,000 - $1,600
The Alienware alpha replacement with real 4K. The Intel NUC with AMD Radeon RX Vega M GH integrated GPU combines a fast 8th or 9th generation Intel Coffee or Kaby Lake processor, and an AMD Vega graphics card on a single package. Intel and AMD on a single package? Hell hath frozen over. This won't end well in 2020. I believe Intel will part ways with their frenemy as they release their own discrete GPU, and hopefully put that on a single package. These are amazing little machines. Get one before they are discontinued.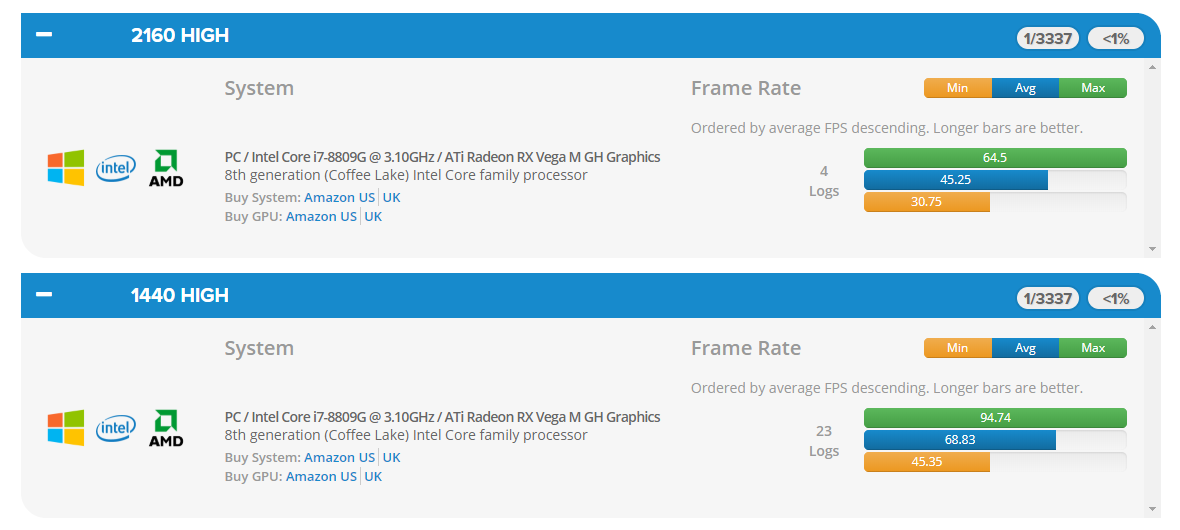 Conclusion
Low end - Apple TV 4K. High end - Gaming PC tower Intel CPU, Nvidia 1660 Ti GPU. Best performance for smallest size - Intel NUC with AMD integrated GPU.
I believe the Zwift game engine will not be developed to use high end GPU features such as ray tracing because Zwift is about fostering a multi-player online community in a 3D world that works the same way on all devices. For that reason, the game will be further optimized for 'system on a chip' (SoC) devices. We are already seeing this as of October 2019 with shadows on Apple TV 4K, and official Android support. Two more generations of SoC will leave no compelling reason for ordinary users to buy a gaming PC for Zwift. I predict there will be more subscribers using iOS and Android than Windows and Mac OS by the end of 2020. Happy shopping, and look out for a post around about Black Friday for deals.